Daren Givoque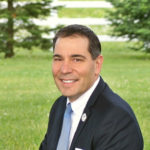 Originally from Toronto, Daren moved to Ottawa when his career with the military ended and he pursued an education at Carleton University and Algonquin College. With over 10 years of experience in the financial planning sector, Daren has seen what can happen when families have no financial plan.  Life gets complicated and time is always in short supply.  We all know investments and insurance are an important part of personal finances but planning for the future on our own can seem overwhelming.   Where to start?

A dedicated family man living in Kemptville with two children from his 20-year marriage to wife Silvia, Daren believes everyone deserves to live life on their own terms and leave a legacy they can be proud of.  Daren helps families do just that.  Friendly and knowledgeable, he takes the time to explain investment opportunities and insurance options so his clients can make informed decisions.  He strips away the jargon and explains every last term and condition in plain English.  When life throws his clients a curve ball, Daren steps up to the plate with a sensible solution.
​
A strong belief in serving his community, Daren is currently a Rotary Club member, President of The North Grenville Business Builders and Chair of the North Grenville Community Fund. As busy as this may seem Daren always says that "he will make the time" to ensure his clients, family and friends get the advice they need to make the right decisions for their lives.