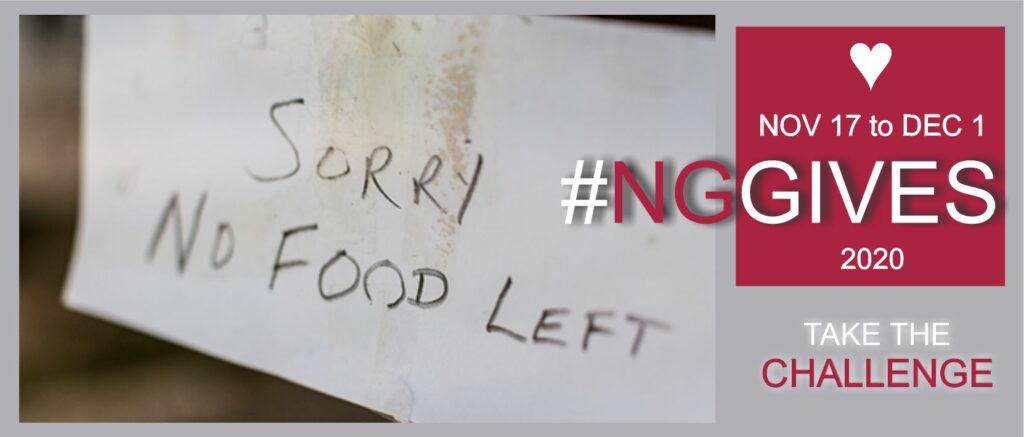 #NGGIVES
A Giving Tuesday Initiative in North Grenville
by the North Grenville Community Fund
---
Tuesday, November 17th, 2020 to December 1st 2020
Our plan is simple: Through the help of the North Grenville Municipality, local Ambassadors, Service Groups, Businesses & individuals, we challenge everyone in Kemptville to raise & donate $200 each to go towards the House of Lazarus Adopt-A-Family program for the holiday season to help alleviate hunger in North Grenville.
Create your challenge and post your results on social media with the hashtag #NGGives
Please make your donation on or before December 1st.

► Mr. Mozzarella will be kicking off our campaign by pledging .50 cents from the sale of every cannoli sold between November 17th and December 1st, 2020 – be sure to visit Mr. Mozzarella and to get your hands on their delicious cannolis!!
► The Rotary Club of Kemptville will pledge a portion of their upcoming online fundraiser to go towards the #NGGives campaign
Join us online for a Facebook LIVE cheque presentation to the House of Lazarus on #GivingTuesday — December 1st, 2020
About Giving Tuesday – December 1, 2020:
a global movement for generosity, taking place each year after Black Friday.
A free, open and inclusive movement, where charities, companies and communities join together and rally for favourite causes
In 2019 GivingTuesday was celebrated in 200+ countries around the world, engaging millions of Canadians, raising over $21 million online in Canada (and $500+ million online in the USA), and providing a platform for countless donations of time, resources and talent around the world.
---
North Grenville Community Fund relies on the generous donations from corporate sponsors as well as from individuals. Donations to the fund are gratefully appreciated.
When you donate to the North Grenville Community Fund, we invest that gift in a permanent endowment that continues to grow. The earnings from the endowment are distributed in the form of grants four times a year to support a wide range of charitable causes in our community. These grants make an immediate impact on the lives of local North Grenville people.